| USA | Sleaze-Bubbleglam | 37mb | 128kbps |
---
Heart Throb Mob
were one of the only surviving glam bands in the 90's, playing the major clubs in L.A. Totally self financed through their own Heart On Records, they released demo Melody Madness and full album Hit List in 1993. After a change in line up they released Eat Your Heart Out in 1995 and a re-recorded Hit List. They also recorded unreleased songs.
Lonny Lovett Vocals
Bobby Vanden III Guitar
Mark Hayes Bass
Traci Michaels Drums
---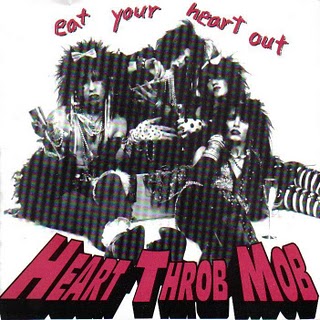 Tracklist
1. Eat Your Heart Out
2. Credit Card Junky
3. Liar
4. Good Luck Girl
5. P.U.S.S.Y.
6. One Shot
7. Doctor
8. Radio Song
9. Get Away
10. Deja-Vu
11. Sick Ta Death
12. Only When You're On Top
LINK
http://glamnsleaze.forumsmusic.com/80-s-hair-sleaze-glam-aor-f8/heart-throb-mob-eat-your-heart-out-1995-t172.htm#205
Most Viewed Of Last Week:

The Most Viewed Ever: