| USA | Sleaze | 60mb | 320kbps |
---
The Demos
feature the original demo recordings from the 2005 Vains of Jenna EPs No One's Gonna Do It for You and Baby's Got a Secret. The tracks "Heartbreak Suicide" and "Kick It" were produced by Gilby Clarke.
Lizzy DeVine - Vocals, Rhythm Guitar
Nicki Kin - Lead Guitar
JP White - Bass
Jacki Stone - Drums
---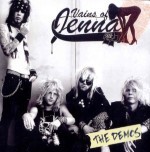 Tracklist
01 - Intro
02 - A.S.A.D.
03 - Heartbreak Suicide
04 - Jumping Jack Flash
05 - Kick it
06 - One Last Pleasure
07 - Hard to Be Vain
08 - Baby's Got A Secret
09 - No One's Gonna Do It For You
10 - Get On The Ride
LINK
http://glamnsleaze.forumsmusic.com/revival-hair-sleaze-glam-f10/vains-of-jenna-the-demos-t136.htm
Most Viewed Of Last Week:

The Most Viewed Ever: