| | | |
| --- | --- | --- |
| ORIGIN | GENRE | YEARS ACTIVE |
| U.S.A. | Glam Heavy Metal | 1981-1984 |
BIOGRAPHY
---
Steeler
was an early 1980s American
heavy metal
band from
Nashville
. Band members included:
Ron Keel
on
vocals
and
guitar
,
Michael Dunigan
on
lead guitar
,
Bobby Eva
on
drums
and
Tim Morrison
on
bass
. In 1982, they released the single
Cold Day in Hell
.
Eva left the band after a short while and was replaced by drummer Mark Edwards. This new line-up did not last long and released no albums or singles.
Soon, Dunigan and Morrison left Steeler and were replaced by Rik Fox on bass and an 18 year old Swedish guitarist, Yngwie Malmsteen. The new line-up released the band's first album, Steeler, it saw moderate commercial success and is now a sought after album for many fans of Malmsteen and Keel.
The final line-up of Steeler saw the departure of Malmsteen, Fox and Edwards who were all replaced by Kurt James on lead guitar, Greg Chaisson on bass and Bobby Marks on drums. This line-up also released no albums or singles. Due to constant change in band members, Steeler never got the major record label it required and Keel decided to split up the band and start a new project.
During Steeler's short time in the world of Heavy Metal, the band became quite popular in LA and even performed to some sold out venues.
Long after the split of the band, Keel felt it was appropriate to produce a compilation album with songs from the single, album, live show bootlegs and unreleased tracks. This album was released in 2005 and was titled 'Metal Generation: The Steeler Anthology.'
LEGACY:
Ron Keel later formed his own project, Keel, with moderate commercial success later in the 1980s.
Yngwie Malmsteen was also lead guitarist for the band Alcatrazz, including Graham Bonnett (vocals), Gary Shea (bass), Jan Uvena (drums) and Jimmy Waldo (keyboards). They released one album under this lineup ("No Parole From Rock N' Roll") and a live release, "Live Sentence". Later, Malmsteen began his solo project, Yngwie Malmsteen's Rising Force, which went on to produce numerous albums with a considerably increased commercial success.
Bassist
Rik Fox
reminisces: "
Steeler
was one of those 'groundbreaking' bands of the 1980's Sunset Strip. We were lucky and fortunate to be in that particular place in time and history, look at the awesome results that we left behind! But it was the songs that made it happen, and...the FANS! Thanks for keeping the faith."
STUDIO ALBUM
EP SINGLE

COMPILATION

Metal Generation (2005)


|Heavy Glam|58mb|190-320k|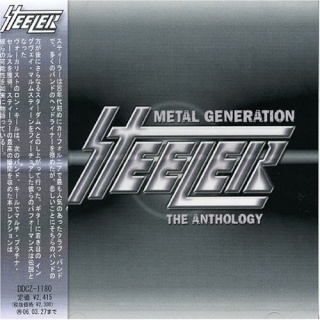 Most Viewed Of Last Week:

The Most Viewed Ever: