| USA | Heavy Glam | 90mb | 320kbps |
---
Feel the Steel
is the second album by
hard rock
/
glam metal
band
Steel Panther
, and their debut major label release. The tracks "Fat Girl", "Stripper Girl" and "Hell's On Fire" are re-recordings from the 2003 debut album
Hole Patrol
while "Death To All But Metal" is a re-recording from their 2004 contribution to the
Metal Sludge
compilation
Hey That's What I Call Sludge! Vol. 1
. Unlike the debut album and their Metal Sludge compilation tracks,
Feel The Steel
is composed entirely of songs, lacking any spoken word comedy skits present on earlier releases. The video for "Death To All But Metal" features comedian
Sarah Silverman
. The album debuted on #123 and peaked at #98 on the
Billboard 200
chart and peaked at #1 on the Billboard Top Comedy Albums chart.
---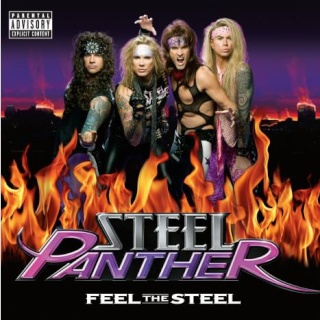 Tracklist
1. "Death to All But Metal"
2. "Asian Hooker"
3. "Community Property"
4. "Eyes Of A Panther"
5. "Fat Girl (Thar She Blows)"
6. "Eatin' Ain't Cheatin'"
7. "Party All Day (Fuck All Night)"
8. "Turn Out the Lights"
9. "Stripper Girl"
10. "The Shocker"
11. "Girl From Oklahoma"
12. "Hell's On Fire"
LINK
http://glamnsleaze.forumsmusic.com/revival-hair-sleaze-glam-f10/steel-panther-feel-the-steel-2009-t168.htm#201
Most Viewed Of Last Week:

The Most Viewed Ever: