| USA | Glam Hard Rock | 73mb | 192kbps |
---
evolution Day
is the third studio album recorded by the
hard rock
band
Tora Tora
. The album was recorded, but never released! due to label restructuring and after which, the members of Tora Tora went their separate ways. The album is labeled as 'Tora Tora Roughs', with 2 different intros for the song "Memphis Soul". The song "Little Texas" is only half recorded and "Time And The Tide" is not on the cassette itself, but is listed on the cassette jacket.
---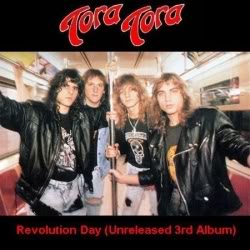 Tracklist
1. "Memphis Soul"
2. "Candle In The Stone"
3. "Rescue Me"
4. "Shelter From The Rain"
5. "Out Of The Storm"
6. "Me and You"
7. "Blues Come Home To You"
8. "Mississippi Voodoo Child"
9. "Revolution Day"
10. "Livin A World Away"
11. "Little Texas"
12. "Time And The Tide"
13. "Outro"
14. "Intro"
LINK
Tora Tora - Revolution Day (Not Released) (1994)
Most Viewed Of Last Week:

The Most Viewed Ever: