| USA | Hair Hardrock | 90mb | 192kbps |
---
Upstart reissue label Eonian Records has concentrated on forgotten rock bands on their initial releases, and who better to resurrect than
High Noon
. The tracks contained on
No Turning Back
were originally recorded between 1989 and 1994, meaning that the sound quality isn't always perfect, but it displays a band that had an abundance of talent and how they evolved over the years.
Jim Zappa

- lead and backing vocals

Ken Hitsman

- guitar, bass and backing vocals

Sam Persons

- bass and backing vocals

Mike Patterson

- drums

Jaime Harris

- drums (12 & 13)
---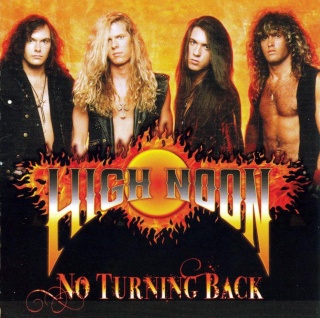 Tracklist
1. High Noon
2. Bad Moon Risin'
3. Rude Boy
4. Don't Come Runnin'
5. Have My Heart
6. Skatin' On Thin Ice
7. When The Night Calls
8. Just Like A Woman
9. Who Do You Think You Are?
10. Around Midnight
11. Faith Hope And Love
12. Bed Of Lies
13. Weight Of The World
14. House Of Glass
LINK
High Noon - No Turning Back (2009)
Most Viewed Of Last Week:

The Most Viewed Ever: